10 Top Paying Ways Make Money on Instagram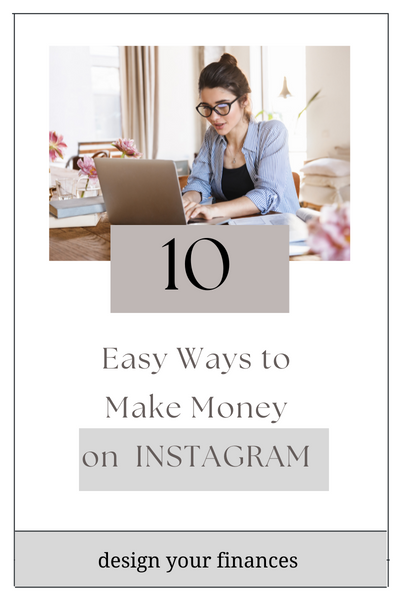 Instagram is a photo and video sharing platform. 
Earning money on Instagram has become a reality for influencers, content creators, and businesses leveraging the platform's massive user base and visual appeal.
First and foremost, sponsored posts and brand collaborations are one of the primary ways influencers and content creators make money. Brands pay influencers to promote their products or services to their engaged followers, leveraging the influencer's credibility and reach.
Famously known for  hashtags, likes, comments, followers, angles which are all part of the gram life BUT if done correctly this can mean a lot of money. This post explores ways, tools, tips all in the effort to make money on Instagram.
Instagram has one of the highest engaged audience which is growing by the day, and that is the main reason the APP has the highest sales conversions. As with any social media platform, growing your followers and engagement can lead to brand partnerships and paid promotions. Instagram's evolving features and vast user base make it a dynamic landscape for income generation, offering a multitude of pathways to turn your Instagram presence into a profitable enterprise.
.
---
How to Make Money on Instagram 
There are different ways to make money on Instagram and for different type of business in various niches. Regardless of which niche your business is in, there has be a strategy that you have to implement in order to see profits. To be successful on Instagram you have to understand how to use the social media platform the correct way in order to grow. This post will highlight some tips and tools to use.
| | |
| --- | --- |
| 1. Sponsored Posts and Brand Collaborations | This is when you promote by showcasing the product or service for a brand and you as the content creator you get a fee.  |
| 2. Affiliate Marketing on Instagram | This method involves promoting products or services and earning commissions on each sale made through your unique affiliate link.  The commission can be earned every time a customer buys or uses the product. The best ones are the residual commission. |
| 3. Selling Digital Products | Explore the realm of selling digital products such as e-books, guides, or online courses directly through Instagram.  If done correctly, this can be a six figure business |
| 4. E-commerce and Instagram Shopping | You can now list your shop directly on Instagram and have the customer interact and BUY from your store, and never leaving the platform. This actually increases conversions and helps with the stores sales. |
| 5. Promoting Physical Products | For those with physical products to sell, we'll delve into how to establish a thriving e-commerce brand on Instagram.   |
| 6. Instagram Live and IGTV Monetization | Monetize your live sessions and long-form video content through Instagram Live and IGTV. Explore opportunities such as hosting paid webinars, offering exclusive content through subscription models, and generating income from video views.   |
| 7. Running Instagram Ads | Instagram advertising can be a potent tool for businesses and content creators. Learn about the myriad benefits of Instagram ads, effective campaign creation, budgeting strategies, and targeted approaches that ensure campaign success. |
| 8. Coaching and Consulting Services | Leverage your expertise and experience by offering coaching or consulting services directly through Instagram.  Consider using scheduling and appointment booking tools to streamline client management and bookings. |
| 9. Growing Your Followers and Engagement | There are so many Instagram Pages that focus on one specific niche and then monetize it. Growing an Instagram Page is very lucrative and you can generate a full time income.  |
| 10. Negotiating Brand Partnerships | Collaborating with brands can provide a significant income stream. Gain insights into the art of approaching brands for partnership opportunities, skillfully negotiating terms that benefit both parties, and addressing legal considerations to ensure a fruitful and mutually beneficial collaboration.  |
Below are some Affiliate Companies 
ClickBank

:

An affiliate platform with a tier-based commission that's open to everyone.
RewardStyle

:

An invitation-only fashion and lifestyle influencer network that offers 20% commissions. 
---
How to Choose a Handle 
Get a great handle that is easy to hashtag. If you want to use the account for a business (or blog) try and get a username that is similar to your business name.  If it's a name then you can certainly try to create variations of your name that is easy to remember. 
TIP – if possible keep the same handle throughout all your social media
.
---
Hashtags 
Create easy hashtags that relate to your brand or what your business does. Research keywords and turn them in hashtags, you can use Top-Hashtags to research competitive keywords, in addition, research the number of engagements (shares, comment, likes) a name generator site that can help you with a name. 
Be original, as your account starts to grow, you will start to get noticed by brands, and issues of copyright become more relevant. If using your account for business, please use a handle that is not offensive or discriminatory any way, but that supports a positive profile. You can use
TIP – the best approach is to test out keywords and see what kind of results best suits your business, below are examples of how to gain followers
.
---
How to Instagram Gain Followers 
A large account with followers certainly means the ability to generate income from it.  Below are some tips and best practices to gain increase your followers. 
Hashtags – use the correct hashtags for your business. Make a list of the top hashtags that are trending in your niche. Research the engagements statics (likes, shares, comments)
Customer Avatar – in addition to your related business hashtags, you should create a customer avatar. The first step is identifying what your customer likes, then finding which pages, hashtags they use. To find relevant hashtags, you may use a free online tool like IconoSquare or Websta. Keep in mind currently that Instagram allows 30 hashtags per post. Creating a customer avatar simply means you identify who your customer is by researching what:
they like to do

demographic, gender and age

where they shop & shopping habits

other similar products they like to use
TIP – whatever you do, please do not acquire fake followers, that can only hurt your account in the long run, worst case scenario gets your account blocked. 
Make a List – Pick top competitors and see what hashtags they are using, use the same hashtags that are relevant to your business. Additionally, after testing various keywords, make a list of winning hashtags for each category, of your business
Older Posts – you can go back to the old post and use fresh hashtags to give them new life and or add new product descriptions. As you start to get a lot more engagements, (likes, shares and comments), you can also edit the post using those new hashtags
Stories – use hashtags in Stories as this can clearly get you more followers, make sure you use a hashtag sticker. 
Filters – this is surely a simple fun format to interact with your fan base, make them fun and interactive. Some filters to consider Juno, Lark, Ludwig
Consistency – this is a big attribute in gaining followers (on any social media platform) and one of the first things to establish when running a business. The best way is to identify the best times when to post when you get high engagements. Also, examine the type of content that your audience enjoys and create more of the same. 
Editorial Calendar – this is the best way to get organized with your content, posts and times to post. In addition to scheduling your post, also track the performance and ways to improve
Following – usually, when you follow most people follow back, in that regards, follow competitors accounts that are active and have engagements. When you follow, make sure to Like / Comment / Share (and of course do it from your business account) 
TIP – do not over follow or post in one day, as this will clearly look spammy and might get your account blocked 
.
---
Sponsored Posts –  another method that generates results is creating giveaways or pay for reviews of your product. Find influencers that have:
at least 20k followers, 

that post regularly, 

high engagements rate, 

that have done sponsored posts before,

Sent a DM with your with your specificities and your rate 
Geo Tags – this provides great credibility even if your business is online. Include info product info or bestseller if location-based 
Highlights – you can give your Stories a second life by adding them to the highlights sections.  Highlights all the gray things of your accounts from products, locations, categories. (10k is the current requirement for a business account) 
Trends – it's always best to note of trending trends and make a post in relation to those, this is also applicable to seasons or holidays. 
Branding – always pay special attention to your brand and try to make your postings style consistent with each other. You want your posts to be easily recognizable as yours. Have your Instagram feed appealing 
Statistics – always look into your analytics and see what is working, which posts got the most followers, likes hashtags. This information becomes handy when you starting working with brands as they would like to know your statistics & metrics 
Instagram – always keep informed on what is new on Instagram and how to use their tools, as this will only make you better also this includes other apps such as filters. 
Bots – some have had great results with using bots, but please be cautious as this might cause harm than good. If you choose to you a bot try and use one that actually followers real people, has viable options that and most importantly, that focuses on the bottom of genuinely growing your account. Some have used Ingrammer
Liking Photo – this has been started in the previous point but wanted to highlight this process. Take time to like photos in your niche, especially people with high followers, surprisingly enough it does work. 
Meme – this is clearly a creative way and funny way to engage with customers, do your meme on what's trending in your niche 
Social Media – link your Instagram to your other accounts, as this is a sure way for your audience to easily follow you. Include clickable links and not just handles, there is nothing more annoying than typing a handle and getting different accounts. 
Notifications – follow top accounts and then turn on the notifications, this will come in handy once they have posted as it will give you a chance to comment on the post early
Bio – include a link that is well optimized on your website, best for it to go to a checkout page or test an option of offering a free product 
Type of Content – posts various types of content, such as memes, products, videos, quotes  – all this makes for a well-rounded brand 
DM Shouts – this is similar to sponsored posts, its basically paying a per post fee to accounts with massive followings for mentioning or recommending you. When you do DM shout, make sure it's own
Descriptions – make sure your descriptions contain both keywords, trending hashtags and your brand keywords 
Instagram Ads – with all the above options, take the time to examine what kind of posts generate the most engagements, which hashtags are the best, the best time to post, your audience demographics, which accounts they follow, all this information is useful when it comes to placing ads. 
TIP: when placing ads, first identify your objective which can either be, getting followers, sales conversions or lead generation. 
Feedback – this mostly done on YouTube, but you can certainly apply it on Instagram because it works. Ask your audience for feedback on the type of content they want to see, on product reviews or solutions they would like you to provide. Business is successful based on the customer's response towards the brand.  
Behind the Curtain – most people think blogging or any social media job is so easy, but in reality, it takes a lot of time, research and dedication. There is a greater sense of appreciation when a blogger pulls the curtain and seeing how they spent their productive hours. There is a reason why vlogs are popular. 
TIP – make sure you have a goal in mind when you do this, for instance, how to create a blog post 
.
---
Read More Articles on: 
How to Make Money on Pinterest
---
Inspirational –  social media is an outlet of many things, but one message that is universal and gets to many engagements is being inspirational and motivational 
TIP – don't have content that is only centered around your product or money. The majority of your content should be informative. Test to see which type of content your audience response to 
Previews – if you have an upcoming product sales, do a preview of that product, as this creates anticipation.  You can have a countdown and each day you can post something new about your product. 
Contests – A common type of contest involves asking users to submit their own photos or videos. You then pick a winner from the submissions. Don't forget to ask any participants to follow you in order to qualify.
.
---
How Many Instagram Followers to Make Money 
When brands approach you for a sponsored post, the main reason is to promote their products and get high returns regardless of the objective. Each business has its own measure of what success is whether they get sales, likes, comments or new followers. In that regard, it important as a marketer to understand your analytics (this may not be the fun part) but truly important for your business. Below are important Instagram metrics to measure your business performance
When it comes to how many followers do you need to make money on Instagram, its all based on the different metrics and your performance delivery. 
Follower Growth Rate – a high follower growth rate means your account is on trend to grow. It is not surprising that an account with fewer followers is growing at a faster rate than a larger account.  How to calculate the growth rate is to divide:
the number of followers in a month divided by
the number of followers you had at the beginning of the month
Engagement Per Follower – Instagram aims for more user engagements and this requires the user to interact with the platform more, more users more money for Instagram. As a result, their algorithm tends to focus more on accounts that have a high engagement rate. How to calculate the engagement rate is to divide
the number of likes per post divided by
the number of followers 
Website Traffic – this is your business performance card that advertisers want to see. Unlike other social media platforms where you can add a link to each post, with Instagram this is not possible, but with Stories, you are able to do so. In addition, to Instagram Analytics, you need to have Google Analytics as this widely used by businesses. You need to be able to identify which social media platform generates the most traffic, conversation and engagements.
Tracking – as a marketer, your objective is to deliver results. This is best done when you track your own performance. Some companies, they pay an additional fee for conversions on top of the sponsored posts. Independently tracking your performance is much better than solely relying on someone. If your tracking link is long, try and shorten it Bitly works best.
Comments – some brands are interested in getting feedback on their services or products as a result, their objective is getting an online focus group. This type of sponsored post may require more than just a simple post, this is when different marketing strategies may be implemented such as "comment to enter the contest or giveaways" In this scenario, pay attention to the type of posts your audience responds to.
TIP – this is the main reason why it is important to grow your account in a way that is sustainable, take the time to nurture your audience, test out which content they respond, encourage various types of engagements and implement new strategies (you can reference your top competitors and see what they are doing)
Reach or Impressions – some business they want to know your current reach or impressions. Both metrics measure traffic but define it differently. For reach, it counts each visitor once while impressions count the number of times they have visited. Each metric is very important to a business.
.
---
How to Find Top Paying Brands
Usually, when you have a large following or high engagement rate brand reach out to you, but it is also imperative to have a few strategies where you can reach out to brands if you choose. Before you reach out to brands, below are some action items you may want to establish beforehand. 
Services and Rates – establish what kind of services or promotion you do. Not all promotions or business relationships will help you in the long run. Define your brand, as you do not want to promote something that contradicts your audience's trust in you. Rates should correspond to each outlined service you offer including, requirements and terms of payments.
How to Reach Brands – The best way to work with brands is to reach out to them directly, introduce yourself, your brand and what you can provide them with. Below are some ways you can introduce yourself and please send your MEDIA CARD (this shows your metrics and what your brand stand for)
| | |
| --- | --- |
| user  | make it more personable, such as, you use the product and you love how it works |
| business | indicate that your audience would love that brand and indicate your engagement metrics |
Below are some companies to reach out
Fohr Card

:

Connect your Instagram, blog, YouTube channel, and other social platforms to create an influencer "card" that shows your different profiles and total reach for brands shopping around for a partnership. You also get access to a list of brands and their wants, so you can take the initiative to reach out too.
Grapevine

:

If you have 5000 or more followers, you can list yourself in the Grape Vine marketplace for the opportunity to work with like-minded brands. 
Crowd Tap

: Do small content creation tasks to earn rewards. This is great if you've got a smaller audience. Available in the U.S only. 
indaHash

:

Brands put up campaigns that you can participate in. Post a picture with the specified hashtags on Instagram and get paid. You need 700 engaged followers to be eligible.
When you advertise for your business and or other brands, it is imperative that you follow the rules and regulations of Instagram and also FTC. Currently, is a requirement to disclose if your post is an advertisement by including hashtags such as #ad #sponsored
.
---
Different Types of Instagram Businesses
Now that we have covered several topics of how to get followers, understand your business analytics, how to find brands, now we are going to cover other methods of how to make money on Instagram.  Below are some examples: 
Below are some Affiliate Companies 
ClickBank

:

An affiliate platform with a tier-based commission that's open to everyone.
RewardStyle

:

An invitation-only fashion and lifestyle influencer network that offers 20% commissions. 
.
---
Summary
As stated above, how to make money on Instagram, depends on a few factors. The best method is to start growing your account the correct way and most importantly as it grows, implement various methods of engaging with your audience. This gives you great insight into how your audience responds and what it likes, you are able to present your findings to brands on how best to reach your audience. Do not be intimated on the number of followers you have comparing to larger accounts, instead find ways to improve your metrics, as you can charge more especially when you have high engagements.
---
Cheering To Your Success
Brenda | www.DesignYourFinances.com
Let's Connect on Social Media! | Pinterest |
---
–
 QUOTE OF THE DAY