10 Apps that Save Money on Groceries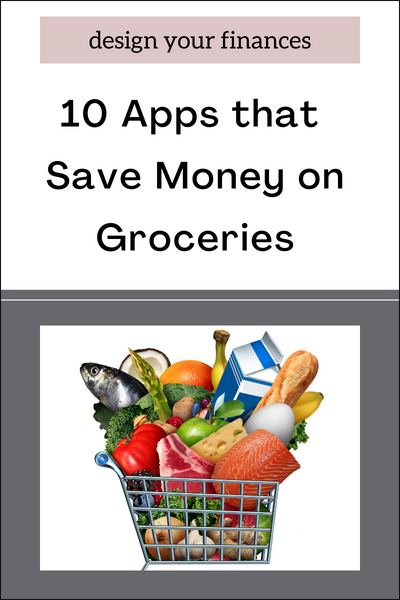 These Apps Will Save Money on Groceries, as prices are getting higher, honestly out of control.
These Money Save Apps, will find a better deal, reduce your bill and help you with cheap meal prepping recipes. It a well known fact that food prices have gone up, and in some cases they have more than doubled.
In today's fast-paced digital age, technology is not just a tool for convenience; it's a valuable asset in saving money. Nowhere is this more evident than in our grocery shopping habits. With the proliferation of smartphones, a plethora of apps have emerged to help consumers trim their grocery bills, from digital coupons and price comparison tools to cashback offers and personalized shopping lists. The old budgeted amount towards groceries, does not make a dent in this current markets. With that in mind this post lists 30 Ways to Save on Groceries, hopefully will give some tips on how to reduce that food bill. While this post below will list a variation of different apps that will help you in meal prepping, recipe ideas, time saving and most importantly will save you some money.
.
---
Top Grocery Apps That Save Money
The most important thing when it comes to grocery shopping is planning ahead. You should always have a list, so you know what you need before you go in the store. You should also try to double up on items that are on sale to maximize your savings. Apps can be extremely helpful for saving money at the grocery store because they offer coupons, deals, and even help make your grocery list for you! Below are our favorite money saving apps.
.
Mealime
BEST FOR: COUPONS
Mealime is great for meal planning and by doing, it helps you save money. The best part about this innovative app, is that you can plan weeks of meals in just a few minutes and can choose recipes to fit over 200 different dietary needs or restrictions. The worsts obstacle to meal prepping is what to cook, if this is done before had, it makes the whole process of going much easier. Another favorite option of this
BEST FEATURES
Recipes: you can upload other recipes and it generates a shopping list for you
Variety: it generates variety of recipes and makes dinners more interesting
Upload: you can also change an ingredient to a recipe you do not like, and it then updates the recipe with your selection
.
---
I

botta
BEST FOR: CASHBACK
Ibotta is a rebate app that allows you to get money back on purchases from stores like Walmart, Target, and more.
Ibotta is a rebate app that has been around for a few years now. This app allows you to get money back on purchases from stores like Walmart, Target, and more. The way it works is by using the Ibotta shopping list which has items that are discounted in-store. When you go to the store and purchase these items, you scan them with Ibotta and earn cash back.
BEST FEATURES
Brands: offers cashback to a  wide range of leading companies in different categories
Receipt Submission: you get cashback, when you submit receipts from what you have shopped
Loyalty Points: When you use your linked loyalty accounts at checkout, your purchases will be linked to qualifying offers on your list
.
---
.
Flipp
BEST FOR: COUPONS
Flipp is one favored app by avid savers, and the company stands by its bold stance of how effectively they save their consumers considerable amounts when it comes to grocery shopping.  One of the best attributes of Flipp is it has over 2000 retailers and counting that participate in the program, they constantly update their coupons. The app lets you browse thousands of digital flyers from more than 2,000 retailers to find weekly deals to build your grocery list with.
BEST FEATURES
Mobile Coupons: they have a wide selection of coupons for online shopping
Trending Deals: they have weekly trending coupons that save the most money
Best Deals: with over 2,000 retailers and a wide range of categories, it easier to shop for the best price
---
.
Fetch Rewards
BEST FOR: CASHBACK
Fetch Rewards  allows you to collect points at grocery stores and turn them into cash. Fetch Rewards makes it easy for their customers to earn reward points by purchasing groceries at their local grocery store and then scan their receipts in order to gain points. This app is a great way to save money on groceries, as well as get other useful rewards like Amazon gift cards, travel vouchers, and more.
BEST FEATURES
Products: they have a wide range of products that quality for earning points
Categories: unlike other companies, they have wide range of categories you can earn points from
Options: they have multiple ways to earn points such as, referring friends and submitting receipts
---
.
Coupons
BEST FOR: COUPONS
Coupons this website and its app is one of the best way to find coupons. The website has numerous coupons in many different categories. You are able to save your coupons on either the app or the website. They frequently update the website with more coupons and usually highlight the ones that save the most money.  The website functions into three different sections such cashback offers, digital coupons and printable. You can either apply your coupons digitally or you can print them for easier use.
BEST FEATURES
Brands: They have leading brands from different categories
Digital Coupons: you do not need to clip the coupons, it can be applied digitally
Related Products: when you select a coupon, you are able to search for coupons for related product
.
---
Coupon Sherpa
BEST FOR: COUPONS
Coupon Sherpa this app lets you upload your grocery list and it will search for coupons for the items you need. It also has a store locator so it's easy to find the best deals near you. This app truly makes meal prepping much easier, because all you have to do is to upload your list, make adjustments to the list if needed before you even leave your home. Impulse buying is usually the main reason, why the grocery bill tends to explode at checkouts. With these app, you know what the prices and and even better you can find the best saving deals.
BEST FEATURES
Brands: has popular grocery stores participating in the program
Coupons: great for the shopper that is on the go and finding the best deals
Efficient: easy to use coupons by scanning at the register from your smartphone
.
---
Instacart
BEST FOR: DISCOUNTED PRICES  
Instacart is a service that delivers groceries in just a few hours. The company has been around since 2012 and it is one of the most popular grocery delivery services. Instacart has become the go to company for easy shopping and its delivery services. The best approach to save money on this app is to shop around, since there are numerous retailers on the app. Create a shopping list, and add your items to  your cart. Leave your shopping items in the cart and see which grocery store reduce the most price during the week. This little tip has saved so much money, because grocery stores stock up during the weekdays and that is when most products and produce are on sale.
BEST FEATURES:
Brands: there are many brands on the app, which makes it easier to shop
Deals: the deals are directly applied to your card, which makes it easier to save money
Delivery: you can choose a delivery window, which makes it easier to plan your day and there is chat option, where you can communicate with your shopper.
.
---
Costco
BEST FOR: DISCOUNTED PRICES  
Costco is a one of the biggest retailer that is known by their beloved customers who love bulk shopping and cheap prices. There is so much savings that one can get when shopping at Costco. The most important aspect into great savings, is to know how to shop at Costco and receive these savings. Having a Costco membership has so many advantages, but the top favored ones includes discounted gas prices, restaurants, and as well as savings from other companies that they have a partnership with
BEST FEATURES
Save on Gas: 4 % on eligible gas for the first year
Save on Costco Shopping: 2% on other purchase from Costco
Save on Restaurants: 3% on all eligible restaurants and eligible travel
..
---
Conclusion
Grocery shopping can be a time-consuming task, especially when you are on a budget. But with the right app, you can save money and time.
Some grocery shopping apps help customers find coupons for the items they want to purchase. Others let you shop at stores that offer cheap groceries without having to go out of your way. There are also apps that allow you to use your phone as a barcode scanner, which is perfect for those who don't have time to compare prices at different stores.
---
Cheering To Your Success
Brenda | www.DesignYourFinances.com
Let's Connect on Social Media! | Pinterest | 
---