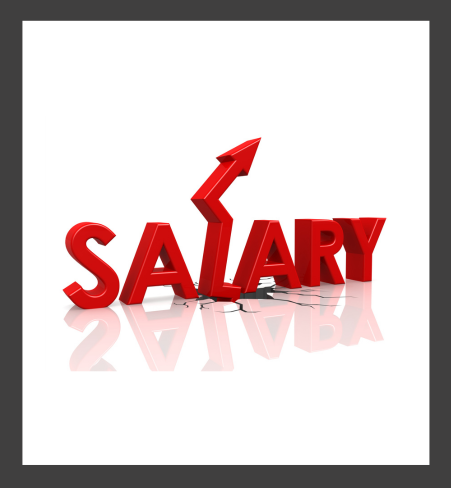 8 Life Changing Tips on How I Got a Six Figure Raise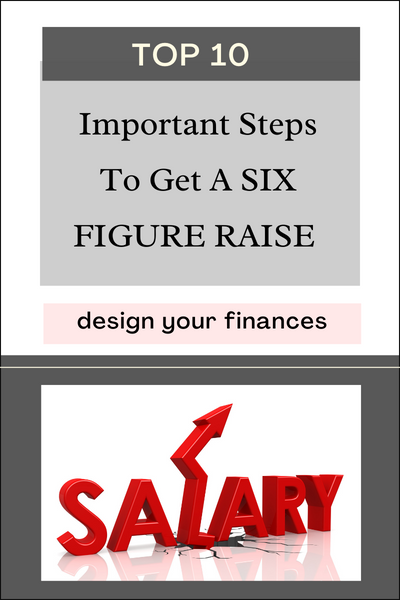 Climbing both the corporate ladder and salary increment can be very difficult. The majority of the workforce that is in the Six Figure Range, usually have many years behind them. Honestly speaking, waiting for 15 years to get into the Six Figure Range was not an option for me.
It was difficult, discouraging, hard-work, mindset challenging – (a lot of 3 steps forward and 5 steps back) but through it all, I Was Determined!
After the degrees and comparison to the current market value, I quickly realized that to get into the six figure reach, I had to construct my own career and think outside the box.
Yes the degrees were great but I quickly realized that I had to be more specialized, well trained and become a subject expert in a particular subject for me to get the six figures because just my degrees were not enough.
The hard question was in what field should I invest in. Below are the steps and actions I took to reach my financial goal and yes, it was not straight forward, as much of life is not. There were many different factors to consider such as, if its a remote position, do I start at a low level, how much experience do I need to acquire before I get the job and most importantly how soon do I get to the six figure ranch. All factors considered, I choose the path with least resistance and it took 8 months of hard work to get the six figure increment.
.
---
1. Education
I have 3 degrees, after my 2nd Masters, I was so thrilled to be part of the finance profession. I went through the normal interview process and was selected for the Senior Position. The department was centered around improving your skills and was surrounded by professional veterans in the industry who would constantly share their knowledge.
.
---
2. Realization
I was so happy in my position and wanted to grow with the company. There was an anniversary lunch for one of the Senior Managers, in her speech she stated that she had been with the company for 25 YEARS!!  I was NOT patient to wait for 25 years for her position, I needed to find a way to get promoted, both position and salary.  My conclusion, it was time to get a promotion as well as the salary.  Below are the chain of events.
.
---
3. Inventory of My Skills
The first step was to take an inventory of all my skills, listed my degrees and the courses I took. I went through all my M.B.A & M.A.F.M courses, then listed all the courses that were relevant to the next position. The objective was to gain additional experience without changing jobs. For instance, if my next desired position was Senior Accountant, below is the framework I used 
Desired Job Title

– Senior Accountant 
Department

– Position in the Vice President's office 
Relevant Degree Courses

– Financial Analysis, Accounting and Wealth Management – current trend analysis, forecasting & budgeting, financial reporting, cost analysis etc 
Application –

I highlighted how my degree courses that were an asset in the next position because the Position required that knowledge base 
Job Responsibility –

I made a list of all the responsibilities that the new Position required. I googled similar positions and used the company's internal job posting boards and made a list of the job descriptions and started to work on showcasing my qualifications & experiences 
Relevant Experience

–  I researched the different reports that the Comptroller did each month and focused on the ones that I knew I could do.  I spent my time learning how to research, made presentations, understanding the data and creating the reports, tying it with the courses from my degrees. I would go to lunch with the current Comptroller and would subtly ask questions. My main goal was to understand the process and the blueprint of his job. 
Qualification – I had monthly meetings with my Senior Manager and when I was ready I asked if I could help the Comptroller (usually I would ask if she had 5 minutes on Friday and came with a list of questions, I was

PROACTIVE

) at the end of the month any Accounting department scrambles for time as they race to finish the reports, so my help was welcomed.  I was in the door, in the Vice President's office who manages a billion-dollar brand, and she knew my name!
Results –

after 3 months, my supervisor the Senior Manager received an email that the Vice President's office would like for me to be in charge of the documents that we publish to the shareholders (these are SOX Documents since it's a public company). I was now getting emails from the Vice President's office to be included in their meetings!!
Analysis –

The good thing was I now had experience in the Vice President Office, Comptroller Office and contributed in Business Strategies. I was able to participate in Job Position Rotation – this allowed me to get more experience under my belt. My experience was now beyond current Job Position.
Reality – I was thrilled for a short time, the work was becoming too much, as I was still in my old position with additional duties, my goal was to have a PAY

INCREASE

and

NOT

be overwhelmed with deadlines. This was becoming more than I could handle. I was practically now working in two departments, with two sets of deadlines, two supervisors BUT One Paycheck.  
.
---
Related articles in increasing your bottom line:
---
4. Six Figure Journey

  
Discovery
I found out the Accounting and Finance departments worked hand-in-hand with Technology (as most departments do) The end users in Technology were not so familiar with Accounting Rules and Regulations and constantly needed their input. I researched top Consulting Firms in the world (Big Four), I found an entry point where I could get highly compensated and duties at a larger scale. For instance, JD Edwards-Oracle Software (for it to function for the Accounting or Finance department, it has to be customized. The customizations, happen in the IT Department)
---
Back to the Drawing Board

 
I started researching top compensating jobs in Accounting and Financial Firms, Internal & External Job Boards. I was able to get an outline of the top paying jobs in my industry and cross-industries. The new obstacle was to identify the skills needed to qualify for the six-figure positions. My Grad School Counselor provided great information and insight such as a list of courses, skills needed and different career paths. This information allowed me to find cheaper institutions to enroll in and get practical experiences.
.
---
Implementation 
This was the hardest part, it was 3 steps forward and 5 steps back. I was constantly fighting with my decision and always reminding myself of the goal. How could I go back to school yet I had 3 degrees? Everyone around me did not understand my decision and worst, did not support it. I had to create an environment to allow successful results, I took classes, before and after work, did my homework during lunchtime in my car. I acquired the necessary certifications. The Vice President's Office offered me a promotion, which was just a change in title but the same compensation, I then decided to leave my job for a better PAYING ONE (hindsight – it was the best decision I made. I created a new career path and that lead me to start my own businesses) 
.
---
Preparation
Now that I had the skills, I studied my new Desired Job. I created a new email address and started to receive email alerts of the desired jobs. Below are some tips I applied:
I compared the Desired Job at different companies

Applied my educational, academic and professional knowledge to the Desired Position

Made a list of what skills the hiring companies wanted (both practical and interpersonal)

Researched white papers in my industry and case studies, current financial news, sources, regional and global business trends, threats strengths and opportunities, (SWOT), solution-based methodologies, project managing, 

Made a list of sample interview questions and created impactful answers based on the industry and my research

I benchmarked my research with what the

LinkedIn Recruiters

,

Big Four

or

Job Boards

and other top financial firms were looking for my new set of skills (

I had acquired the skill set, it was now a matter of packaging and presenting my qualifications, a simple resume was not enough)
.
---
Presentation
After months of preparation I was now qualified, I had the skillset, understood the job requirements and could execute the processes and blueprint of the job. I now had a solid understanding of my Desired Job and I was able to build my new skills-set on top of my transferable skills from different spheres. I was now a well-rounded candidate and my resume clearly exhibited my accomplishments. TIP –  I did not only sent my resume, I also included:
Professional Portfolio

Case Study Analysis

Current Market Research and Business Strategies
I then reached out to recruiters, introduced myself and how I was qualified for the position. I sent them my Professional Package (that showcased how I resolve, manage and lead various projects)
.
---
5. The Six Figure Salary  
Six-Figure Salary
Within a week I was able to secure interviews with many recruiters. I got interested in one particular company which is the Top Consulting Firm in the world. The interview process took 5 months, 7 interviews and it was always a conference setting of at least 4 people. I was glad that I took the time to study the industry, current market trends, and events. GUESS WHAT — I NAILED IT!!  
After the last interview, before I left, they offered me a job and I negotiated a higher salary because I knew what I was worth. I was now a CONSULTANT, I traveled the world with this job, worked for Fortune 500 Companies, with great responsibilities and career growth.
.
---
Lessons 
It took a lot of work, failure, being discouraged, I had two Master's Degrees and yet I was going back to school. My peers from my old job, would not understand why I would torture myself by going back to school. I had the qualifications to look for another job in the same industry, BUT I WANTED MORE and I ACHIEVED IT.
---
Summary
Success is an intentional act. You have to create your VISION, then plan out your GOALS. You will FAIL more than you will SUCCEED, but be careful not to stumble on stones and conclude that it is where your journey ends.
---
Cheering To Your Success
Brenda | www.DesignYourFinances.com
Let's Connect on Social Media! | Pinterest | 
---
 QUOTE OF THE  DAY