Steps on How Canva $12.99 Turned Into $80k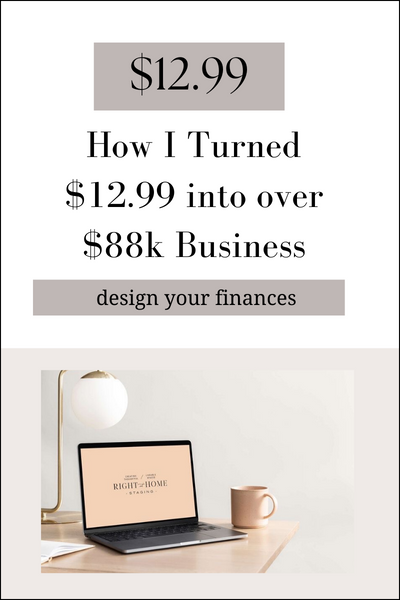 CANVA is a Graphic Design platform where you can translate and communicate an intended message through a visual presentation to a targeted audience through visual aids such as images, words or illustrations. 
The cost of the service is $12.99 and I was able to make $86,000 and income is still growing. The service comes with various graphic design functions, learning modules and countless design possibilities.
I took the time to learn the different design templates in the system and came with various business ideas I could generate from this one service. My different businesses include both digital and physical products. 
As much as I love to write How to Make Money it truly comes with a lot of hard work, such as  learning and implementing. This post will showcase the step-by-step process of how I use this service to make money. The best lesson I learnt is to  take inventory of all your skill sets and research how many ways to make money from each skill set.  Canva has emerged as a game-changer, democratizing the world of graphic design and empowering individuals, entrepreneurs, and businesses to bring their creative visions to life. Beyond its user-friendly interface and vast library of design assets, Canva offers a unique opportunity for enterprising individuals to turn their design skills into a profitable venture. From designing eye-catching social media graphics and marketing materials to crafting custom templates and offering design services, Canva presents a versatile canvas for creative entrepreneurship. 
---
COST: $12.99
You can practically design anything with this service and this gives you many options of creating different side hustles that can actually bring in money. Once you get the premium services you have access to more designing options. The service comes with various predesigned templates that you can easily adjust to match your design needs. Below is how the service is designed. CLICK HERE TO GET STARTED
.
---
Canva Templates

Currently the service is designed into 3 sections and each section has numerous ways you can make money from. Currently Canva does not permit you selling their predesigned templates, but you can certainly create your own to sell. They are constantly improving their service, so more options are becoming available and or modified, but currently below are the templates they have.
.
SOCIAL MEDIA:  This set of templates and various design options, are a perfect selection when it comes to designing the below social media post. They are constantly updating their designs and the search results at the top are the ones that convert the most.
Instagram Story

Instagram Post

Facebook Post

Facebook Cover

YouTube Channel Art and much more
.
PERSONAL: Lifestyle activities are becoming a trend and this includes activities from social, meditation, fitness to spiritual awareness. The list is endless and so are the different ways to create a targeted business. This is meant to help you manage and improve your time and daily activities. The predesigned templates include:
Invitations

Postcards

Resume Creation

Weekly Schedule Planners

Personalized Greeting Cards
.
BUSINESS: These predesigned templates are perfect for when you want your business branding to stand out. Especially, when it comes to social media, the more you stand out and have a clear message targeted to your audience, that might lead to more conversions. Research the platform you are using, for instance, Pinterest or Instagram, then search your business niche. Usually, the top search results are the ones that are converting the most. Use that inspiration to create a brand for your business. 
Presentation

Letterheads

Logo Design

Website Design

Invoice Templates
.
MARKETING: This may be the most important part of any business especially if the business is on social media. The best method to frame your marketing message, is to first create a customer avatar of your business, this normally includes highlighting your customer's demographics and interests. This will show you what your customer is interested in and what brands they interact with, this information is crucial when it comes to marketing your business. Same as the above, they come with predesigned templates, which include:
Flyers

Posters

Brochures

Newsletter

Infographics
.
EDUCATION: This section is my best selling one. There are multiple products that I can design and sell, from kindergarten all the way to grad school. This comes with  predesigned templates, same as above. The templates are of teaching materials that help students to be interactive and or schedule maintenance. This includes
Worksheet

Certificate

Bookmarks 

Lesson Plan

Class Schedule

Classroom Decor Kit and more
TIP: PLEASE DO NOT SELL CANVA PREDESIGNED TEMPLATES. IT IS AGAINST THEIR POLICIES. BUT YOU CAN DESIGN YOUR OWN
.
TRENDING: These predesigned templates are constantly being updated to match the current trends. They normally showcase designs of upcoming major holidays or celebrations. This makes it so much easier as you can source inspiration from trending designs AND CREATE YOUR OWN DESIGNS. Some of the highlighted trends include
Photo Books

Canva Prints

YouTube Intro

Ebook Covers

Major Holidays
.
---
Canva Features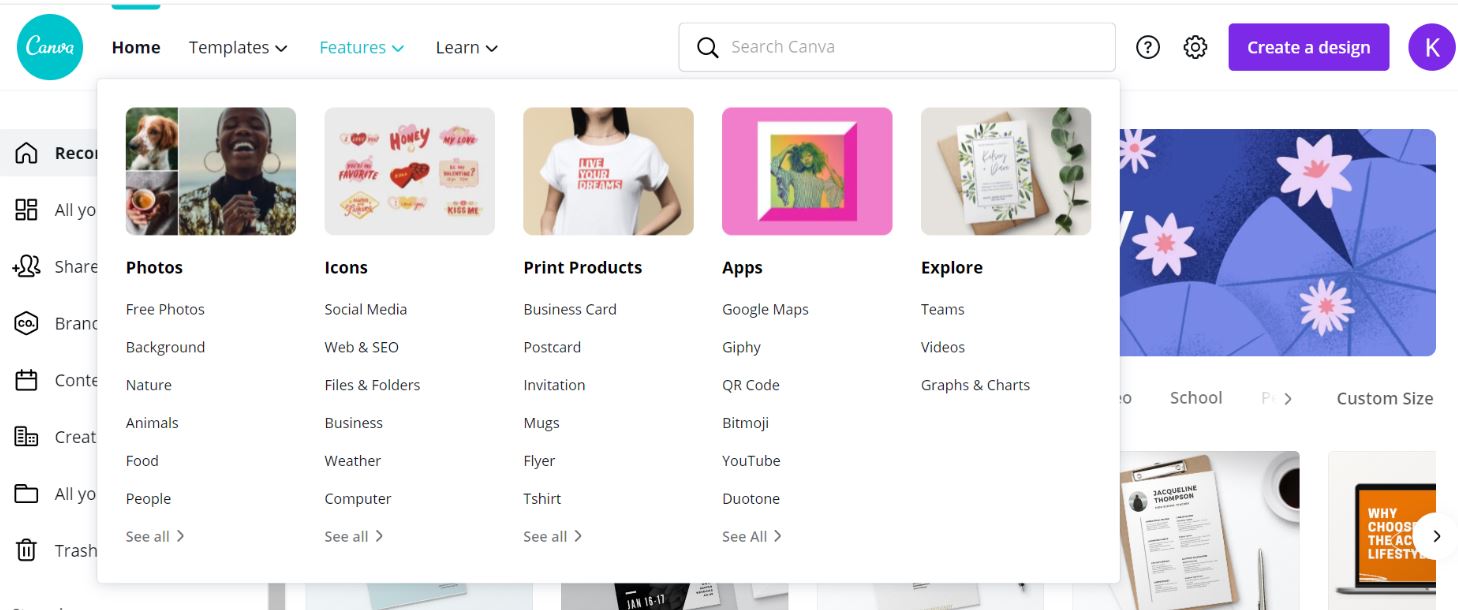 This is the fun part of Canva as you are free to CREATE AND DESIGN YOUR OWN CREATIONS. They section gives you so many options and they include:
PHOTOS: there are multiple free photos you can choose from, the best way is to search the type of content you want to create, for instance blogging and the search results will bring the top converting blogging templates. Below are some of the photos you can use, this is not an exhaustive list
Nature

Animals

Food

People

Backgrounds

Blog Images and so much more
.
ICONS: This makes the poster or image more engaging, at best, it does separate you from the other competitor. When you want your images to tell a story, it can be easily achieved with different types of icons such as:
Gaming 

Computer

Web & SEO

Social Media

Travel & Hotels 

Health and Beauty

Blogging and so much more
PRINT PRODUCTS: you can now make your designs in Canva and have them printed onto physical products (this is constantly being updated, lookout for more options). These include:
Postcards

 Business Cards

Wedding & Engagement Invitations
.
APPS: these are fun as they enhance your image or video look, from Retro, Neon, below are some options:
Glitch

Slice

Pixelate

Color Mix

Screen and so much more
.
LEARNING: this makes Canva the best designing tool, not only do this options included in the price IT COMES WITH A DESIGN SCHOOL. What this means is you get access to the tutorials and courses about the new and upcoming trends. Some of the tutorials and courses includes:
Graphic Design

Branding Your Business

Social Media Marketing

Communicating with Your Audience

Top Influencers and Business Owners teach Tutorials
.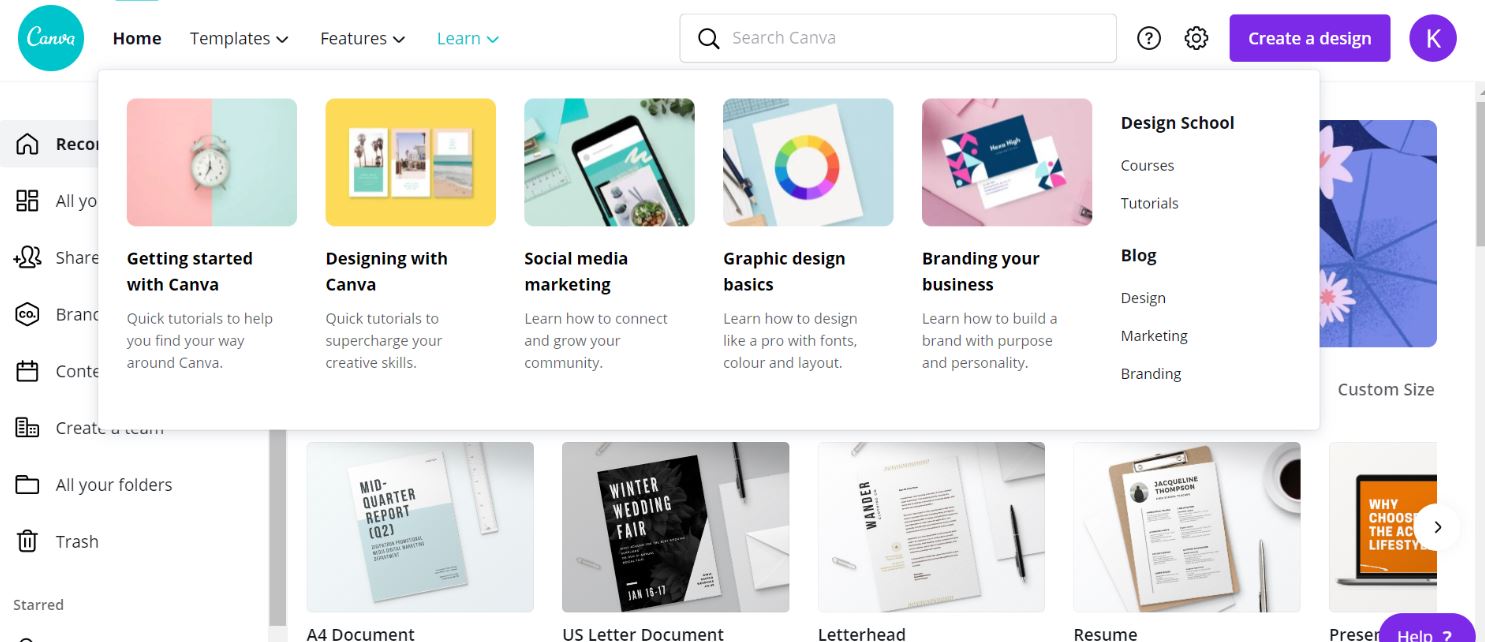 .
---
How I Made Money with Canva
Now that I have gone over the different options, tutorials and courses that Canva has to offer, you can easily create side hustles from it. The list below is not exhaustive, but worth a second look. I like side hustles that are easy to start and produce passive income. Below are my favorite
PRINTABLES
This has recently become a new side hustle but the earnings make a difference. What I have learnt with this side hustle is to obviously research but above is to create printables that correlate to each other. Another way to make money with printables is to look at trendy items and see which topics you can easily create printables for.  Believe it or not, people tend to buy products if they solve a problem such as organization and productive tips or best practices. Some of my bestselling printables includes:
work planner

weekly planner

blog tasks and schedules
TIP: complimentary printables make the most money, for instance if you create fitness printables, you can do grocery list, daily food journal, weight loss and fitness exercises
.
---
PINTEREST TEMPLATES
If you search the term on Pinterest, you will find a large number of content creators are producing Pinterest Templates in large amounts because IT WORKS. The type of templates can cover many topics from blogging, meal prepping, fitness schedule, business tasks and so much more. This business makes so much sense since I am already selling printables. My customer base is the same, this saves so much money in advertising as my customers love sharing them for FREE. Things to keep in mind if you choose to start this hustle includes:
colors

fonts

images

content
TIP: anytime you sell something make sure it meets a need or solves a problem, that is why researching is part of your profits
.
---
CUSTOM T-SHIRTS
This has become a winning hustle in my portfolio. I have expanded the designs to women, men and kids. Just with anything, I do my research before I start a collection. Yes, these are just T Shirts but green money is green money, meaning that I take all the necessary steps to learn as much as I can, even though my T Shirts sell less than $25. My research process includes the trending colors of the season, top selling T-Shirts designs, to softest T-Shirt fabrics. Just because they sell less than the designers does not mean, I short-cut my efforts. Not only do I create the designs but I also create designs for various occasions such as:
holidays

cute memes

family slogans

trendy slogans
TIP: before you design, please conduct a research of what your target audience would love.
.
---
COFFEE MUGS

 
Same as the above hustle, I design cute coffee mugs. There is a huge demand and like the above statement as well, you need to research your audience. This is the same process as I use to research and make my T-Shirts. I really take the time to create great designs that my audience loves. One great tip to use for any business is to first figure out who your customer is and create  an avatar with all the related interests they love. The more you know about your customer, the better it is for you when you design. Some of my designs include:
holidays

cute memes

family slogans

trendy slogans
.
---
EDUCATION PRINTABLES
This may fit under the printables section, but wanted to highlight it on its own, because, lately my income has grown the most with this option. At this point, I might sound like a broken record, but this is what I did to be successful. RESEARCH . RESEARCH AND MORE RESEARCH. I used the same method as the printables as above, but the extra mile I took with this one, I targeted a specific group, mainly college students. My background is in Finance and Accounting  I KNOW THE PAIN OF UNIVERSITY CLASSES!! It was easy to identify problems and come up with solutions.  Below are some printables.
lesson plan

school schedule

homework tracker
.
---
YOUTUBE VIDEOS
This may seem a bit odd, but I found a way to make videos that fit me. I don't like to be on camera and having to deal with so much editing, yet at the same time, I have so much information to share. So I decided to use CANVA to make informational videos and post them on YouTube. I really love this type of business model, as I am able to monetize my videos and they will keep earning as long as I am getting views. The beauty about YouTube, the older the videos, the more money they generate. The best way to make money on this platform, is to create content that is unique and as always provide so much value. Below are some of my top points when it comes to YouTube.
I aim to create more videos

INCOME: from YouTube Ads

I learnt this option from Canva Design Course and it has been great.
.
---
EBOOK COVERS
There are different ways to make money when it comes to designing, but this option has brought in money. There are many kindle book authors who want to have an ebook cover designed who do not have the skill set. Below are the steps I took:
researched the correct kindle ebook dimensions and any other specifications

took note of the top ebooks in client niches (fonts, colors, images)

created the designs in Canva and downloaded a shareable and editable image

I listed my services in

FIVERR

 and charged.
---
SUMMARY
This will be an ongoing post, as I will update constantly. The above side hustles are not exhaustive, but surely can serve as a starting point. I keep getting questions on how to make money online and the top lessons I have learnt is to
take an inventory of your skills and find how you can turn them into a business

research your audience by asking questions and find products or create solutions that you can sell
I hope this post was insightful, any course or service you pay for, find different ways it can make money from or better yet, implement the knowledge from that course to other business ventures. 
---
Cheering To Your Success
Brenda | www.DesignYourFinances.com
Let's Connect on Social Media! | Pinterest | Facebook |
---