Affiliate Marketing Course That Made My Blog Profitable
Affiliate Marketing is when a marketer promotes a service or a product and gets a percentage, normally known as a commission or referral fee.
There are different ways companies structure payments mostly includes either a one time payment, a set payout amount, a percentage of the total cost and or recurring commission if the customer keeps retaining the services.
Affiliate Marketing has become the most favored side hustle because it does not take much to start, you can easily promote many products and you do not have to worry about starting a business. This course is the reason why my small blog is making money and importantly, earning more than my old corporate full time job. The course goes into step by step process of how to find the best companies and how to model my affiliate business.
---
Please Note: post includes affiliate links. I only recommend products that I vetted or use personally
---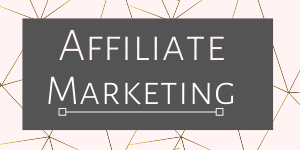 COURSE: AFFILIATE MARKETING
INCOME:  SIX FIGURES
This course creator has made over 1 MILLION DOLLARS mostly from affiliate marketing. The best part of this course, it goes into detail from affiliate marketing basics to scaling your business into a six figures. Some of the major topics she teaches is how to choose and find affiliate programs, how to promote them and how to convert your visitors into customers, which I highlight more in the upcoming steps. Affiliate marketing used to be for celebrities, but now due to the expansion of social media, anyone can do it. This course is the reason why my small blog is making money more than my old corporate job, but most importantly, I learnt how to turn it into a business. CLICK HERE TO START
.
---
AFFILIATE MARKETING COURSE
The course taught me how to turn affiliate marketing into a business. There are many products and services you can essentially promote and make money from, but the most important aspect is that not all products or services are made the same. Below are some not all of the most important lessons from the course I learnt
How to find affiliate programs

How to build your trust with your audience

How to determine what your readers want

How to Affiliate Market according to the law

Different strategies to promote your Affiliate Links

How to Increase Pageviews to Your Affiliate Links 

This course, is the reason why my small blog is making money
The strategies in the course have earned many people so much money, at best I have earned more money than my corporate SIX FIGURE JOB, all from affiliate marketing.
.
---
HOW I SUCCEED WITH AFFILIATE MARKETING
Just like with any course you have to put in the work for any success.  I come from a Finance background and this is the strategy I use for any of my business courses
SKIM

:

I simply read to get a general understanding of what is affiliate marketing and how the course creator MADE A MILLION DOLLARS all from AFFILIATE MARKETING. 
LEARN:

I re-read all the course materials and this time I am taking notes, links, tasks, questions that I will ask in the Facebook Group. This becomes my cheat sheet
ACTION:

  I now reference the cheat sheet as I create deadlines for my tasks and measure my results. Any questions I ask Facebook Group
NOW

:  I created a cheat sheet and everytime I market a product or are approached by a brand, I simply go over my cheat and implement the different strategies. In the Affiliate Marketing Facebook Group, we constantly share new methods to improve our earnings.
TIP: the best way to learn from this course, is to first create a learning system. You will not get any results, if you do not apply the lessons.
.
---
AFFILIATE MARKETING COURSE LESSONS
The course content is well structured that any beginner can easily follow and progress as they complete the modules. It flows from basics to becoming an expert. Each module comes with different lessons and they build on each other. Below are some not all lessons covered in the course. Once I understood the lessons below I was able to make money with affiliate marketing, as I soon learnt how to grow it as a business. 
.
AFFILIATE LINKS: One of the lessons includes the different types of affiliate links. Not all affiliate links are the same, for instance some have longer cookie life and that means there is a greater chance to make that sale. She goes into detail of how to access and verify your affiliate link.Verify the type of affiliate link you are promoting, as some are not structured in your favor, at worst, some do not even pay what you are owed.
.
TRAFFIC: there is a misconception that all blogs with high traffic make money. But small blogs can make money or even more, only if you take the time to understand your audience and the best practices to implement them.  In order to increase audience engagement. Below are some tips to increase your traffic:
to write content that solves the problem.

offer free information, in way that is easy to follow

always communicate with your audience. Consistency is one major factor to success
For some affiliate programs they may require a certain number of page-views. This lesson goes into detail how to correctly engage with your audience and convert them into customers.
.
---
HOW TO PICK AN AFFILIATE PRODUCT
Always have your reader in mind, it may seem like it's becoming a theme, BUT TRULY THIS IS THE RECIPE FOR SUCCESS. Always put your reader first and the best way to do so is to constantly monitor what your audience is
asking

have problems with

or you can simply survey your audience

survey what other content producers are promoting

you can promote any product, but it is best to promote a product that is within your niche – it builds trust and more cohesive
Take that information and then find a product that solves that particular question. Of course, find a product or service that is worth promoting. TIP: another way to source a product or service to promote is Google search the top questions in your niche and find which product that easily solves that. This is a great method, because you already have a target audience to promote to. 
.
LEGAL STUFF: the internet has created so many new ways of making money and the IRS has found new ways to get to that money. (IMAGINE THAT!!) And for that reason, there are new laws and regulations US bloggers or any internet company has to abide by. It is best to create your business the correct way and limit your liabilities. This course will go into detail of how to protect and abide by regulations. TIP: each country has their own laws when it comes to internet business. Please conduct a research within your own country
.
---
HOW TO MARKET YOUR PRODUCTS
There are numerous tips on how to successfully market or promote your products, but the best tip that has worked for me, is to be honest. It is perfectly okay to highlight the pros and cons of your products. Below are some ways you can use to promote your products by conducting a product review:
.
WRITTEN REVIEW: you can write about the products and what kind of results you may expect. It is always best to inform your audience what kind of experience level is required. Most courses tend to start from the basics and progress into a more difficult level. Usually, with a written review, you have to explain thoroughly how the product works. It is perfectly okay to include any presentation aides, such as tables, infographics or images. The best type of written review is one that has a step-by-step process, it surely makes it easier to follow.
.
VIDEO REVIEW: this may be the best form to review a product as your audience can see you interacting with the product itself. Make sure you point out and highlight what makes the product unique. This are some tips to consider when making a video review
quality sound

great lighting 

closed caption, this is truly helpful for your audience to follow through
PHOTO REVIEW: this type of product reviews can certainly increase conversions. The best photos or images are the ones that are "professionally looking". You can easily do this at home, invest in quality tools. If you decide to use a professional, simply google "product photography" TIP: The Affiliate Marketing Course goes into more details about the different ways you can engage and promote your products
.
GOOGLE ANALYTICS: this is one if not the most important analytical tool as most business partners set their payout rates based on your traffic and the official measure of traffic is Google Analytics. The course goes into detail on how you can use your Google Analytics into increasing your affiliate income. This is by far, the biggest tip and tool I used to start increasing my income. The best part of Google Analytics, it shows you the demographic that is interested in your product, this is instrumental, because the more you know about your audience, you can easily communicate with them.
.
AFFILIATE MARKETING NETWORKS: There are different ways to find affiliate products to promote, there is no right or wrong way but I certainly found that not all networks are equal. My best tip would be to sign up with a network instead of an individual company. Below are the differences:
.
NETWORKS: when you apply to a network, you get access to many companies who have products you can easily promote. This makes it so much easier to manage your affiliate links and get paid as you do not have to submit a new application and banking details to each company. The best part of promoting companies within a network, it's mainly because the networks usually verify if the company meets certain rules and are determined to be trustworthy before being approved to list their products. This offers a layer of protection, instead of promoting an individual company directly.  TIP: THE COURSE HAS A DIRECTORY OF OVER 80 AFFILIATE COMPANIES YOU CAN EASILY APPLY 
.
---
TYPES OF AFFILIATE MARKETING COMMISSIONS
There are many ways a company can compensate you. It is advisable to fully research and understand how your compensation is structured. Some companies have a well outlined payout process, but most of them their payouts are not structured to be in your favor. The list below is not exhaustive but will serve as a starting point, should you choose to negotiate your payouts. Below are the most popular:
.
FREE SERVICE: some companies prefer to pay you in free services and or products in exchange for your review and any customer signups. How this normally works is each customer you refer and signups, earns you points or credits. In order to qualify for the free products you have to pass the set threshold credits. For instance, they could have a set threshold of one customer equals one point. In order to qualify for the free product or service, you need a 100 points.  TIP: before signing for this type of commission, first calculate your opportunity cost. Is the reward worth the cost of marketing the products. 
.
RECURRING: this is where the money is. The principle is the same, you refer visitors to your affiliate link and you get paid a commission (usually a percentage of the price). As long as the customer continues to retain the services or uses the product, you continue to receive a commission monthly. Depending on the commission percentage, this tends to increase your earning power because your efforts can continuously pay you every month. Just like the tip above, calculate your opportunity cost, the best approach is to find an affiliate product or service that has a decent payout each month.  TIP: before signing up to promote a company or product, please do a thorough research. As always, please promote products that are of high quality and actually solve a problem. This certainly helps your earning power.
.
ONE TIME PAYMENT: this is usually referred to as the bounty payment. It is usually a one time payment and a large one. This does encourage marketers or influencers to actively pursue this option, as it tends to create higher payouts. I would advise you to do the math, sometimes a one time payment earns more as you do not know how long a customer will retain the service. Some may view it as a disadvantage, that you will have to constantly look for customers to promote to. TIP: with anything, do your calculations and determine your opportunity cost, take into consideration your business costs and determine which one pays more
.
CONTRACT: this is geared more to when a brand approaches you and they enlist your services. They are more flexible when it comes to the payment process, as they are more interested in your influence or audience reach. If you are interested in affiliate marketing, this is the goal to aim for as you can easily set your own rates. Some influencers are charging about 4 to 5 figures for one post. When you do this type of affiliate marketing, companies request and verify your company statistics, such as pageviews, engagement rates or audience demographics such as gender or age.  Some contracts payouts are structured based on the number of conversions you get.  The best approach is to fully understand your contract and the conversions requirements. TIP: it is always advisable to take the time to create your list of services, delivery timeframes and associated fees
.
---
TYPES OF PRODUCTS YOU CAN AFFILIATE MARKET
There are numerous products and services you can promote, especially with the rise of social media and there are various ways to market them. To generalize the process there are 3 types of products that companies tend to use affiliate marketing for. Below is not an exhaustive list but will give a highlight.
.
SERVICES: in business terms, services are generally defined as non physical products, such as legal services or landscaping. This also now applies to the digital world and there are numerous digital services such as hosting or web services. There are great opportunities when it comes to affiliate marketing with this option.
.
PHYSICAL PRODUCTS: this includes any tangible products. There are many affiliate marketing opportunities. Some main points to consider would include, but not limited to the product's safety, shipping timeframes, returns policies and off course the products reviews. As always, research the product first before promoting it, but the best option is to be a customer first.
.
DIGITAL PRODUCTS: are products that are not tangible and all accessed online. This is a very lucrative way to make money. There are so many ways you can structure your affiliate payouts, that can easily increase your income such as:
Influencers: if there are influencers you like that are coming up with new products, use the same skill set as you would with sponsored posts, approach them to market their products and negotiate your rate
Sample of Digital Products: currently these are the top digital products: downloads, courses
\TIP: with digital products, please verify if there are restrictions when it comes to how you market the product. Some companies have rules on how you market their products and if in violation you may get suspended. 
.
---
SUMMARY
Affiliate Marketing is one of the leading ways to increase your income. This course has allowed my small blog to make more money than I did in a corporate job. Are the results going to be the same for you, it all depends on whether you apply the information. As I stated above, I created a study system to the point where I could rehearse what was covered in each lesson. Course creator made MILLIONS OF DOLLARS, I was determined to earn some money from this course. Did I make millions, not yet, but have made more money than my corporate job and earning everyday from the simple tips and lessons I learnt. If you get the course, please create a study plan and some action items.
Knowing the correct strategies is the biggest advantage you can have as you cut down your learning time frame. The second most important aspect is to plan your work and implement it. This courses start from the basics and shows step-by-step on How to Correctly Start Affiliate Marketing.
---
Cheering To Your Success
Brenda | www.DesignYourFinances.com
Let's Connect on Social Media! | Pinterest | Facebook |
---