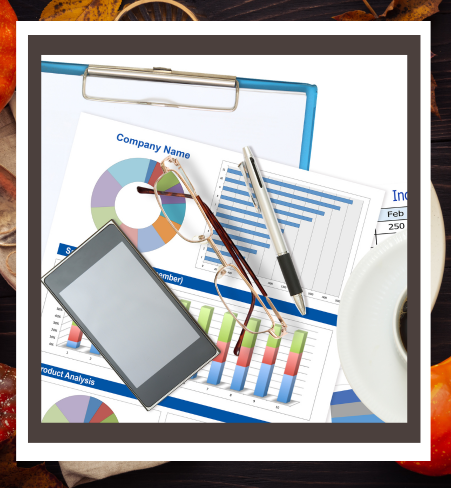 Top 10 Year End Financial Review Tips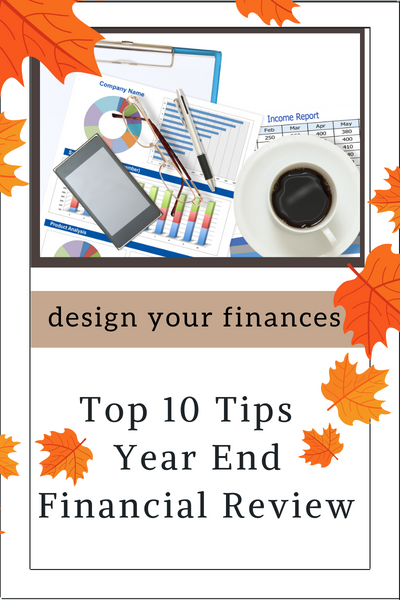 Year End Financial Review is important as the year draws to a close, it's not only a time for holiday celebrations and reflecting on personal growth but also an excellent opportunity to conduct a thorough review of your financial health.
The Top 10 Year End Financial Review Tips guide is here to assist you in this essential process.
This comprehensive financial check-up is like an annual performance evaluation for your finances, allowing you to take a closer look at your monetary goals, accomplishments, and hurdles from the past year while preparing for the challenges and opportunities that the next year may bring.
Whether you're a seasoned investor, a diligent saver, or someone just beginning their financial journey, this guide is a valuable resource. It offers a holistic approach to financial review, covering a range of key areas such as budget management, investment assessment, retirement planning, tax optimization, and more. By following these tips, you can gain a deeper understanding of your financial landscape, make informed decisions, and ensure that your financial strategies align with your long-term goals. So, let's embark on this financial journey together, and equip ourselves with the knowledge and tools needed to take control of our financial future.
.
Financial Year End Tools
Whether you're a seasoned financial guru or just beginning your journey to financial literacy, exploring these tools can be a game-changer in achieving your monetary objectives. Some tools for your end of year review 
Budget Planner 
This is a comprehensive budget planner that is aimed in saving money and repaying debt fast
Monthly bill organizer with pockets

Expense tracker and finance journaling

Financial calendar that tracks spending & savings

4 pages for debt tracking, 2 pages for Holiday budgeting,

2 pages for regular bill tracking, and 2 pages for annual
.
---
Personal Finance Book
This book showcases how to completely transform your finances by showing step by step strategies
Simplified beginners guide to eliminate financial stress

Comes with digital simplified templates to use

Saving strategies that can quickly save money

Debt paying strategies that will erase debt faster
.
---
.
Retirement Planning Guidebook
This guidebook certainly helps in laying a strong foundation. 
Assess where you wish to live in retirement

Manage your long-term care risk between self-funding

Investment and insurance tools that fit your personal style

Make smart decisions for when to start Social Security benefits

Determine if you are financially prepared for retirement by quantifying your financial goals
.
.
---
Cashflow Quadrant Guide
The first book was Rich Dad Poor Dad. This is the
second book  which reveals how the 1 percent manage, grow, protect their assets such as:
How to work less, earn more, pay less in taxes

Book is written for those needed to secure financial freedom

Showcases the different methods how to achieve financial freedom

Highlights how to strategically move beyond job security and acquire financial literacy
.
.
---
1 Review Your Budget and Expenses
Reviewing your budget and expenses is a fundamental step in your year-end financial review. As the year comes to a close, it's essential to assess your financial health and ensure that your spending aligns with your financial goals. Take a close look at your budget to evaluate how well you've adhered to your spending plan throughout the year. Analyze your monthly expenses, and identify any areas where you may have overspent or encountered unexpected costs. By pinpointing these financial patterns, you can make informed decisions about adjustments for the coming year. It's also an excellent time to assess your subscriptions, discretionary spending, and potential cost-cutting measures to optimize your budget. This meticulous examination of your budget and expenses forms the foundation for a successful financial review, helping you identify areas for improvement and set the stage for a financially secure future.
.
---
2. Assess Your Debt Situation
Assessing your debt situation is a critical component of your year-end financial review. It's essential to understand the impact of your outstanding debts on your overall financial health. Begin by compiling a list of all your debts, including credit card balances, loans, mortgages, and any other liabilities. Take note of the interest rates, minimum payments, and the total amount owed for each debt. With this comprehensive overview, you can assess the progress you've made in reducing your debts throughout the year and make informed decisions about your debt management strategy for the future. By evaluating your debt situation, you can identify opportunities to accelerate debt repayment, refinance high-interest loans, or consolidate debts to reduce your financial burden. The goal is to create a clear path towards debt reduction, helping you achieve greater financial freedom and peace of mind in the year ahead.
.
---
3. Check Your Credit Report
Checking your credit report is a crucial element of your year-end financial review. Your credit report serves as a snapshot of your financial history and plays a significant role in your financial well-being. By obtaining a copy of your credit report from the major credit bureaus, you can review your credit history, ensure its accuracy, and identify any potential issues that may need your attention. Look for discrepancies, errors, or signs of identity theft that could adversely affect your credit score. Addressing these issues promptly can safeguard your financial reputation and ensure that your credit remains in good standing. A healthy credit report can lead to better lending opportunities, lower interest rates, and increased financial flexibility in the future. Therefore, as you conduct your year-end financial review, don't overlook the importance of monitoring and maintaining a strong credit history.
.
---
4. Reevaluate Your Investments
Reevaluating your investments is a critical step in your year-end financial review, as it allows you to assess the performance of your investment portfolio and make informed decisions for the future. Begin by reviewing the performance of your investments, including stocks, bonds, mutual funds, and any other assets in your portfolio. Analyze the gains and losses, paying particular attention to the overall return on your investments. Consider your investment goals and risk tolerance to determine whether your current portfolio aligns with your financial objectives. If necessary, rebalance your portfolio to maintain the desired asset allocation and diversify your investments for a more stable and resilient financial future. Additionally, take the opportunity to assess your investment fees and expenses, ensuring that you are not paying more than necessary. By reevaluating your investments, you can optimize your portfolio, make necessary adjustments, and set a course for achieving your long-term financial goals with confidence.
.
---
5. Update Retirement Contributions
Updating your retirement contributions is a pivotal component of your year-end financial review, as it enables you to secure your financial future with prudent retirement planning. Start by assessing your current retirement account contributions, including 401(k), IRA, or other retirement savings vehicles. Review your contribution limits and compare them to your actual contributions to determine if there's room for improvement. Increasing your contributions before the year's end can offer immediate tax benefits and enhance your long-term retirement savings. Additionally, if you receive an employer match in your workplace retirement plan, ensure that you are contributing enough to maximize this valuable benefit. If you've experienced changes in your financial situation, such as a pay raise or a financial windfall, consider allocating some of the extra income toward your retirement accounts. By updating your retirement contributions, you are taking a proactive step toward building a more secure and comfortable retirement, making the most of the available tax advantages, and increasing your financial well-being in the years to come.
.
---
6. Plan for Tax Efficiency
Planning for tax efficiency is a vital aspect of your year-end financial review, and it can significantly impact your overall financial well-being. As the year draws to a close, it's a prime time to explore tax-saving opportunities. Begin by evaluating your current tax situation, taking into account your income, deductions, and any life changes that may affect your tax liability. Look for strategies to reduce your taxable income, such as maximizing contributions to tax-advantaged accounts, like a 401(k) or IRA. Consider charitable donations or other tax-deductible expenses that could lower your tax bill. Moreover, explore tax-loss harvesting opportunities to offset capital gains and reduce your overall tax liability. By planning for tax efficiency, you can make the most of available tax breaks, minimize your tax burden, and allocate more of your hard-earned money toward your financial goals, whether that's saving for retirement, investing in your future, or enjoying more financial flexibility.
.
---
7. Examine Your Emergency Fund
Examining your emergency fund is a vital step in your year-end financial review, as it serves as a financial safety net that can provide security and peace of mind. As the year comes to a close, it's a perfect time to assess the status of your emergency fund. Consider your current financial situation and whether any changes have occurred throughout the year. Evaluate the size of your emergency fund and ensure that it aligns with your needs and financial obligations. Experts typically recommend having three to six months' worth of living expenses saved in your emergency fund. If your fund falls short of this goal, consider increasing your contributions to it in the upcoming year. An adequately funded emergency fund can protect you from unexpected expenses, such as medical bills, car repairs, or job loss, allowing you to maintain financial stability and avoid accumulating debt during challenging times. By examining and strengthening your emergency fund during your year-end financial review, you are enhancing your financial resilience and preparing for any unexpected events that may arise in the future.
.
---
8. Update Insurance Coverage
Updating your insurance coverage is an important component of your year-end financial review, as it ensures that you have adequate protection for life's unexpected events. Take the time to review all of your insurance policies, including health, auto, home or renters, and life insurance. Consider whether any changes in your life, such as marriage, having a child, or purchasing a new home, may necessitate adjustments to your coverage. Ensure that your policies offer the right level of protection and that they align with your current needs and financial situation. This review is also an opportunity to explore potential cost savings, like bundling home and auto insurance or raising deductibles to lower premiums. By updating your insurance coverage, you can safeguard your financial security and protect your loved ones, giving you peace of mind in the face of life's uncertainties.
.
---
9. Estate Planning and Legal Documents
Estate planning and reviewing legal documents are essential tasks in your year-end financial review that may often be overlooked. Take time to review your will, trusts, power of attorney, and any other legal documents that outline your wishes regarding your assets and healthcare decisions. Ensure that these documents are up to date and accurately reflect your current circumstances and wishes. If you've experienced significant life changes, such as marriage, divorce, or the birth of a child, it's crucial to update your legal documents accordingly. Estate planning is not only about securing your assets for the future but also ensuring that your loved ones are provided for and that your healthcare preferences are respected. By addressing these matters during your year-end financial review, you can have peace of mind, knowing that your affairs are in order and that your financial and personal wishes will be honored in the years to come.
.
---
10. Set New Financial Goals
Setting new financial goals is a central element of your year-end financial review, as it provides you with a roadmap for your financial future. Reflect on your current financial situation, accomplishments, and any challenges you've faced throughout the year. Based on these insights, identify areas in which you'd like to make improvements or where you see opportunities for growth. Your financial goals may vary, from saving for a specific purchase or vacation to increasing your retirement contributions, reducing debt, or expanding your investment portfolio. Setting well-defined and achievable financial goals not only motivates you but also helps you maintain financial discipline. As the new year approaches, consider your short-term and long-term objectives, create an action plan to achieve them, and set benchmarks to measure your progress along the way. By establishing new financial goals in your year-end review, you're empowering yourself to make purposeful financial decisions and work toward the future you envision.
.
---
Conclusion
 A year-end financial checkup is an essential exercise to assess your financial health and set the stage for a prosperous financial future. By examining your budget, debt, investments, and insurance, you can ensure that your financial well-being remains on track. Remember to consult relevant tools and resources, and consider professional advice when necessary to make the most informed decisions.
.
---