LIMITED SALE:
ALL IN ONE BLOGGING COURSE
THIS POST MAY CONTAIN AFFILIATE LINKS. PLEASE READ MY DISCLOSURE FOR MORE INFO.
THE BEST BLOGGING COURSE I have ever used is currently on sale for a discounted price of $19 for the 1st month and thereafter $47/month. When you are trying to make money online, you are lucky if you find a course that provides great value.
The best part of this course is that it specializes in everything you need to create an online business from getting your first customer to turning your idea into a business.
Aside from the step-by-step videos and live community help you get to test drive the program for a low cost, unlike other courses that have a high commitment value, such as thousands of dollars. You get to test drive the program for a discounted price.
Below are some of the courses included in the program.
Local Marketing
Video Marketing
Pay Per Click – Ads Campaigns
Search Engine Optimization
Authoring and Writing Content
Keyword, Niche and Market Research
Live Training Every Friday on New Online Business Strategies
---
---
Below is a High Level What the Program Offers: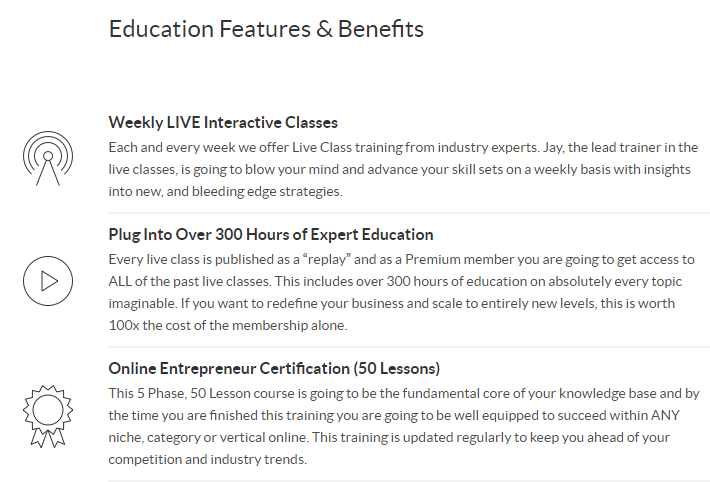 ---
Below is a sample of Bootcamp Lessons which comes with step-by-step videos and you are able to get live help, unlike sending an email and waiting for days for a reply. Each Bootcamp has several courses that analyze the topic much deeper, roughly about 10 lessons per module.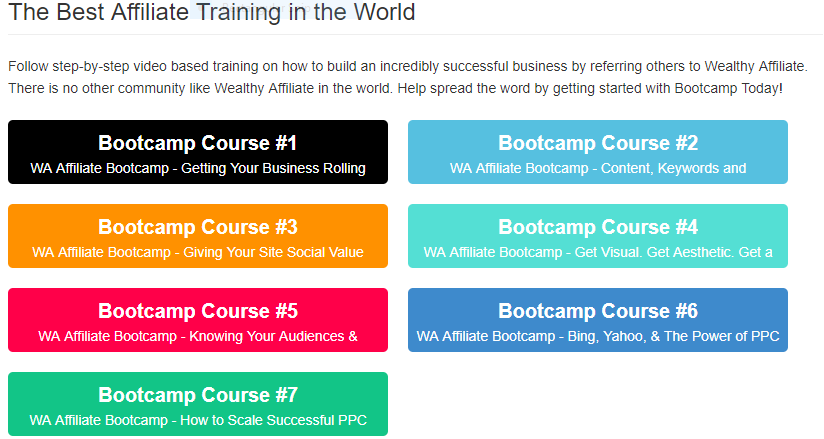 ---
BOOTCAMP 1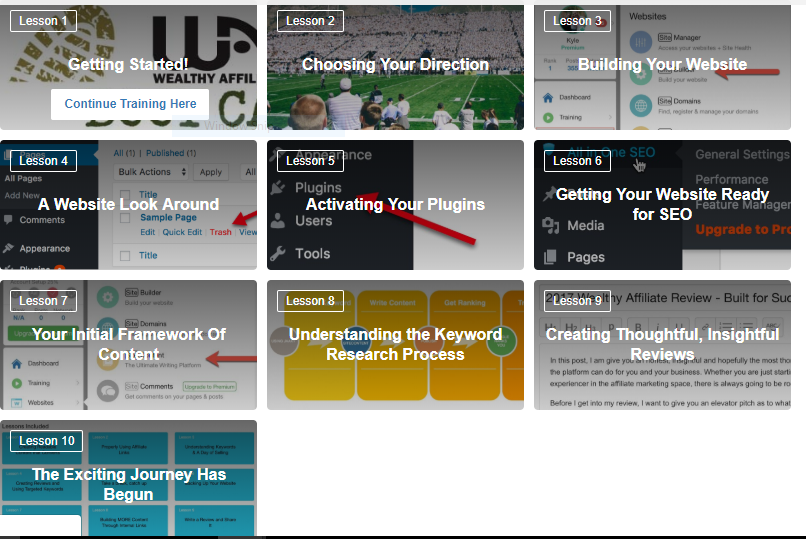 ---
BOOTCAMP 2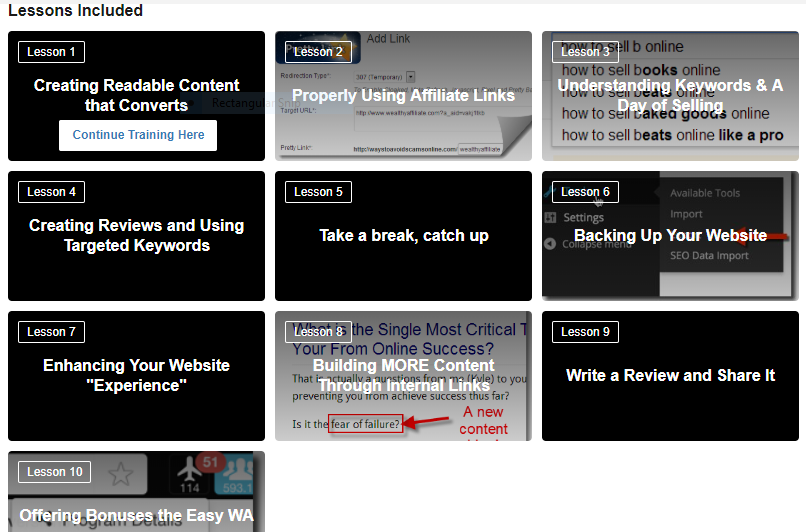 ---
BOOTCAMP 3

---
BOOTCAMP 4

---
BOOTCAMP 5 

---
BOOTCAMP 6
---
Additional Bootcamps
There are many more Bootcamp Lessons similar to the ones above which are constantly updated in order to stay competitive in the market and are targeted a singular topic, such as Pinterest, SEO, Facebook, Email Marketing and so much more.
Why Wealthy Affiliate 
There are many courses that teach how to build an income blog, but very rarely do you find a course that has a library of over 500 videos and constantly update information regularly with no price increment.  The best part of this system is that you do not have to commit hundreds or thousands of dollars, it's a subscription-based, test it out without the massive commitment. Below are other attributes that come with the system:
there are no upsells
learn how to create your online presence
there is a live chat 24/7 with people ready to help
step-by-step videos for each lesson that is taught
you can send a private email to anyone and seek assistance
assistance and guidance from other successful online business owners
a library of over 500 videos eg SEO, Traffic, Rankings, Writing Content & much more
EVERY FRIDAY – LIVE STREAM ON HOW TO IMPROVE YOUR ONLINE BUSINESS 
Email

 You sent an email requesting help
 

Blogs

 Published blogs within the community that you can access
 

Library

 Over 500 videos of various selection
 Videos
 Show you step-by-step of how to do the task
 Courses
 These are various topics that task-based

Classroom

 These are syllabus courses and have about 10 lessons in each (for instance –  beginners training)
 Live Videos
 Every Friday there is a selected topic that is covered on how to improve your business eg Pinterest, SEO, Facebook or Email Marketing
 Chat Rooms
 Post your question in an active chat room
 Certifications
 Topics that give an expert opinion on how to build and grow your business
 Private Messaging
 You can send a Private Email to anyone for assistance.
Member Reviews